Everything the Mustang Mach-E Will Add to Your San Leandro Travels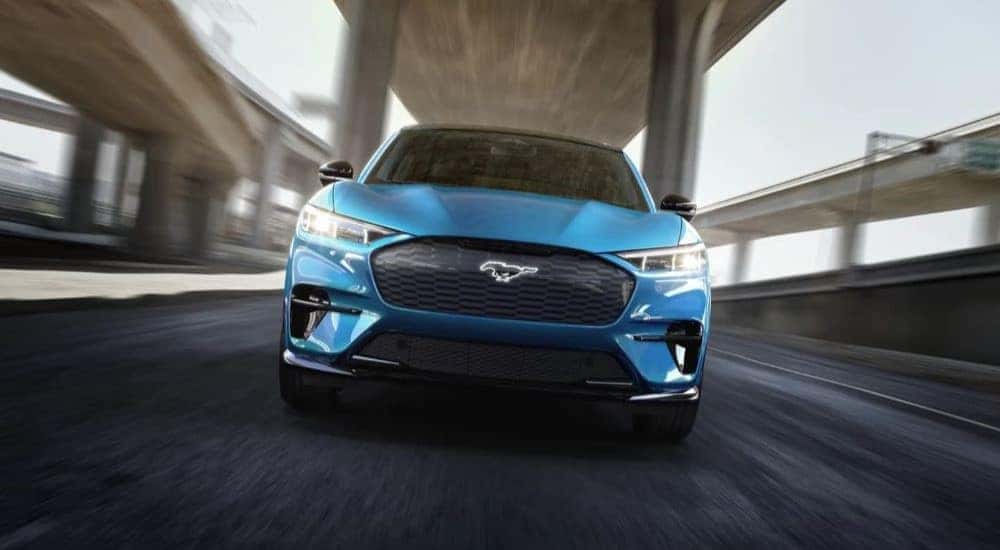 Making your way through the Bay Area, you know that you can expect a more hectic commute than many other parts of the country, which requires a vehicle that can handle this challenge with expert agility. Whether you're on your way to your home in Broadmoor or are heading into San Francisco for work, more San Leandro drivers are turning to the Mustang Mach-E to enhance their journeys in unimaginable ways. If you're searching for a better way to travel, the all-electric Mach-E will deliver the efficiency, comfort, and ride quality you need, and when it comes to the top Ford dealer in San Leandro, The Ford Store San Leandro is it. Get ready to check out the Mustang Mach-E and all the ways it will make your daily travels exceptional as you travel through the East Bay and beyond.
A Riveting Ride
It's pretty obvious, from the moment you get stuck in rush hour traffic, that our area can become quite congested at times. With worse traffic than most of the other Bay Area cities, San Leandro requires vehicles that can handle this challenge. This is where the Mustang Mach-E comes in to impress you with impeccable efficiency, fit to handle even the busiest roads in America. With a maximum range of 312 miles in the 2023 model, handling stop-and-go traffic or long highway jaunts is no sweat for this all-electric superstar. Multiple powertrain options are available to help you choose the level of performance you require, making it easy to see why more San Leandro drivers are turning to electric power when they want to take advantage of ultimate efficiency on some of the most hectic roads in the area.
What's more is that in true Mustang fashion, the Mach-E can add an incredible level of excitement to your ride. Choosing the GT Performance Edition allows you to harness impressive acceleration to make even the most mundane commutes more exhilarating. Jumping from 0-60 mph in just 3.5 seconds, this model will surely add immense value to your travels, especially if you frequently find yourself clocking in miles on I-880. Its MagneRide Damping System offers superior comfort on board, cushioning the bumps of the road and allowing the Mach-E to handle twists and turns like a dream. Plus, with its quiet demeanor, you'll be able to sit back and relax on your way home from the city after a busy day at the office.
Supreme Style
Many San Leandro drivers seek out spectacular styling in their vehicles, and from the inside out, the Mustang Mach-E just radiates a contemporary appeal. With its battery under the floor, the Mustang Mach-E is able to offer a spacious and comfortable cabin experience. Plus, with heated front seats, ambient lighting, a panoramic fixed-glass roof, and more available features, your time spent inside this show-stopping vehicle will certainly enhance the way you travel.
Outside, the Mustang Mach-E commands your attention, with signature tri-bar lighting and LED headlamps, as well as a selection of vibrant paint colors to really make a statement on the highway. Opt for the Nite Pony Package to add an air of mystique to this bold vehicle, with black wheels, stealth badging, and more to stand out from the crowd. There's no doubt about it—the Mustang Mach-E is a stylish vehicle, armed with alluring design elements and a roomy cabin in a sporty package that can handle itself anywhere you dare to venture. If you're looking for a dazzling design, the Mach-E makes this a priority.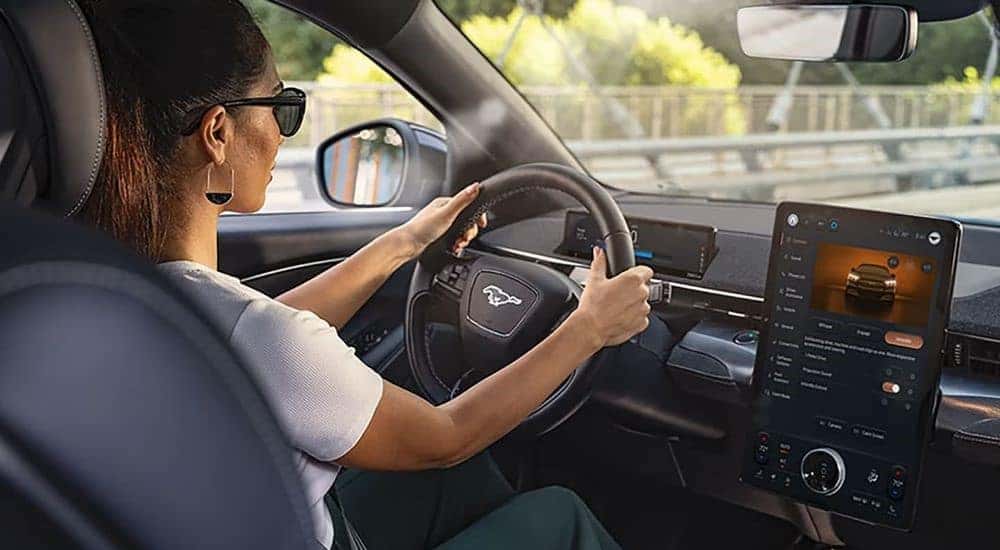 Extraordinary Convenience
The Mustang Mach-E isn't just incredibly efficient and absolutely stunning; it can also add ultimate convenience to your drive. For one, it's a breeze to charge, with multiple charging solutions at the ready to help you get charged up and ready to hit the highway. Charging at home is easy with a home charging station, and if you're on the way to your destination, you can charge on the go as well. With access to North America's largest public charging network, you can charge your Mach-E virtually anywhere, making it easy to stay moving with confidence.
In addition to easy charging options, the Mach-E brings revolutionary convenience with BlueCruise hands-free driving capabilities. As the Consumer Reports Top-Rated Active Driving Assistance System, BlueCruise allows drivers to travel hands-free on over 130,000 miles of compatible roadways throughout the United States and Canada. Utilizing a driver-facing camera paired with advanced lidar mapping and sensor technology, the BlueCruise can help you enjoy the journey wherever you're traveling, especially when you're taking a road trip to SoCal for some time at the beach.
Convenience comes in many forms in the Mustang Mach-E, and if you're looking for a functional and versatile cabin, you'll find it in this Ford favorite. With seating for five, the Mach-E is able to provide a cozy ride for all, and with 60/40 split-folding second-row seats and an adjustable load floor, having room for all of your cargo is a given inside the Mustang Mach-E. Offering up to 59.7 cu.ft. in its rear cargo hold with its seats folded, this compact electric SUV is ready to make your time on the San Leandro streets much more comfortable for you and your passengers. You'll even have more space for your belongings in its front trunk since this beautiful machine has no engine taking up that valuable real estate.
Tech-Savvy Features
Drivers throughout Alameda County rely on technology in their vehicles to help them arrive at their destinations comfortably and safely. The Mustang Mach-E offers a spectacular array of tech to elevate your drive in every possible way, from its standard 15.5-inch infotainment touchscreen to an available 10-speaker Bang & Olufsen sound system. The Mach-E allows you to personalize your ride like no other vehicle in the industry, right down to how it sounds in the cabin. With three distinct driving experiences, you'll be able to set the mood of your trip through sound, light, and ride quality. For example, Whisper creates a quiet, calming ambiance on board to help you disengage from a hectic workday, while Unbridled intensifies performance, making for a bolder, more riveting drive.
You'll also experience over-the-air updates to the Mach-E's software so that you won't have to take time out of your busy schedule to bring your vehicle to our dealership for these upgrades. Plus, with driver recognition, your Mustang Mach-E will respond to you from the moment you take your place behind the wheel, adjusting your seat, mirrors, and more to help you sink into the ride and enjoy every second you're on the road. From utilizing your smartphone to unlock the doors to enjoying state-of-the-art SYNC 4A technology, the Mustang Mach-E is more advanced than most of its rivals.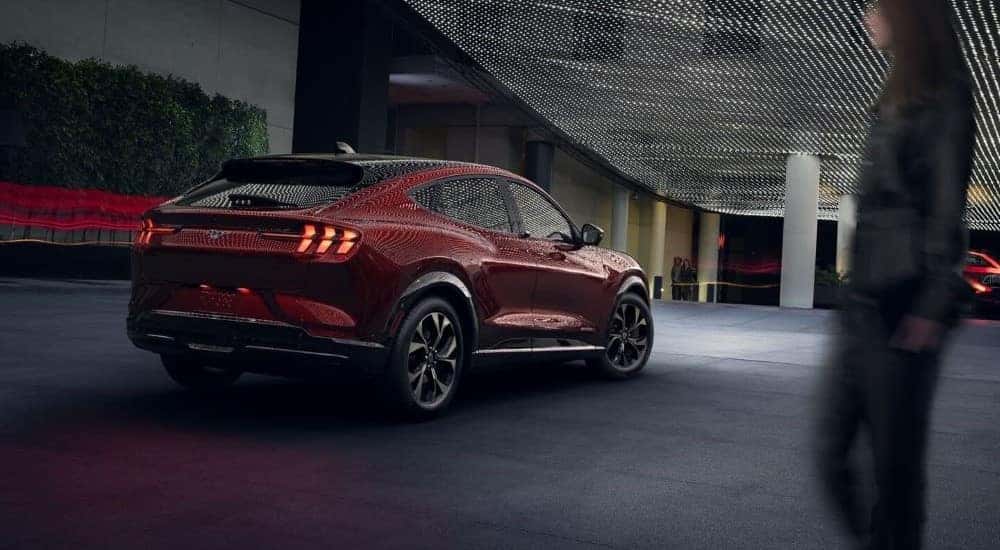 It's Time to Test Drive the Mustang Mach-E
The Mustang Mach-E performs optimally on any roadway, from traffic-laden city streets to wide expanses of highway, offering you a ride quality that's above and beyond the rest. It showcases high-level styling, allowing you to travel anywhere in the Bay Area comfortably and with confidence, and with all of the convenience and tech features, every aspect of your drive is addressed when the Mach-E is in charge of your journey. There's no vehicle in the industry better suited to handle the unique travel challenges of the San Leandro area. When it comes to prioritizing everything about the drive, the Mustang Mach-E doesn't hesitate to do just that. That's why more San Leandro drivers are turning to this iconic EV to help them make the most out of their everyday travels, weekend trips, and more, bringing a new level of perfection to their overall experience on the road.