Everything You Need to Know About the 2024 Ford Maverick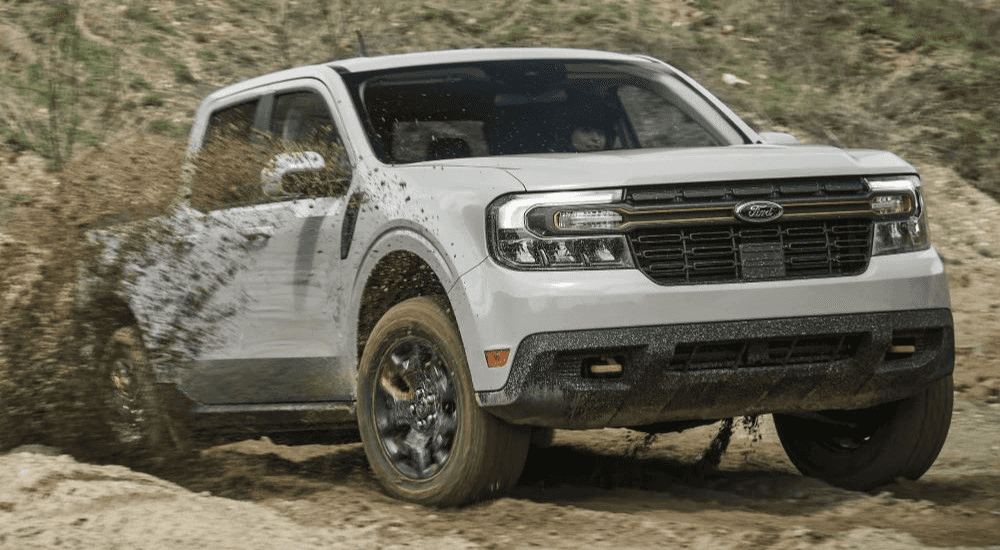 Are you hungry for something powerful that doesn't break the bank? Why wouldn't you be? After all, it's manufacturers like Ford that are constantly tipping the scales and making more powerful platforms easier to afford. The 2024 Ford Maverick is a strong showing of Ford's willingness to supply drivers with an experience that goes above and beyond what they've come to expect within a one-year refresh. If you're looking for an Oakland Ford dealer, then you should consider the 2024 Ford Maverick as Ford has made one change that could drastically turn the tides in favor of the Maverick with drivers looking for a cost-friendly solution to their pickup truck needs.
The 2024 Ford Maverick is well-priced, as were its predecessors. The 2024 model can be found with an MSRP of $23,400, and in many ways, regarding the availability of pickup trucks under $25,000, it simply doesn't get better than this. With the changes made to the 2024 model that we'll discuss momentarily, the Ford Maverick is now stronger than the Hyundai Santa Cruz while being drastically cheaper, too – Hyundai's compact pickup truck starts at $26,650. The Ford Maverick is also available in three trims, meaning buying the truck is as easy as saying, "I'll take the XL, XLT, or LARIAT!" With pricing and trims behind us, let's talk about the 2024 Ford Maverick in more detail and why you should check it out at your earliest convenience.
Flipping the Switch
We alluded to a change Ford made with the 2024 Maverick that greatly flipped the switch and affects every buyer, so what is that change? The outgoing 2023 Maverick, like its predecessors, uses a 2.5L I-4 engine paired with a battery – the standard powertrain means the base-level 2023 Maverick is a hybrid. Drivers who didn't want a hybrid were left with no other choice but to spend extra and replace the pre-existing hybrid powertrain with a turbocharged 2.0L I-4 engine. For the 2024 model, the script has been altered with the turbocharged 2.0L I-4 engine now coming standard, while the hybrid powertrain is now the optional powertrain solution.
To many, this is how things always should have been; a non-hybrid powertrain being standard is something that ultimately makes more sense, especially for a pickup truck. The results are great, one of which is a stronger showing for base-level performance. This stronger performance includes twice as much towing capacity as the previous base powertrain – the hybrid models – and is an easy way for Ford to greatly enhance base-level performance while pricing isn't affected nearly as much.
Ultimately, there are three reasons why having the non-hybrid turbocharged 2.0L I-4 engine standard is better than the hybrid model. Firstly, switching to the turbocharged engine means the cheapest Maverick now produces 250 hp, while the hybrid powertrain – which is still available on the 2024 model but came standard on previous models, as we mentioned – outputs 191 hp. This is around a 31% increase in horsepower for the base Maverick in one year.
The second reason why the turbocharged 2.0L I-4 engine is a great addition to the standard setup is that it's accompanied by its 8-speed automatic transmission, which feels like a more proper and familiar acceleration for a pickup truck – the 2023 Maverick's base powertrain uses a continuously variable automatic transmission (CVT.) The third benefit from swapping the two powertrains is that the entry-level Maverick also tows 4,000 lbs now, double the 2,000 lbs the hybrid model can tow. Additionally, both powertrains offer a payload capacity of 1,500 lbs.
A Truck for All Things Versatile
Given the low starting price of the Maverick, you may be surprised to learn it's quite a versatile machine in a plethora of ways. It's even more versatile if you opt for one of the available packages; our favorites include The FX4 and Tremor Off-Road packages, which are both applicable to Maverick Lariat and XLT trims. If off-roading is your interpretation of versatility, the Maverick is a great contender for one of the most cost-effective off-roading solutions, even with the Tremor and FX4 Off-Road packages. Both packages offer all-terrain tires and skid plates, and the Tremor package features a finely-tuned and specifically crafted off-road suspension, a decent boost to ground clearance going from as low as 8.6 inches on AWD models without the Tremor package to 9.4 inches with it, and more.
Going with one of the off-roading packages also means you're getting an increase in things like the Ramp Breakover Angle, which goes from 18.1 degrees to 19.9 degrees with AWD models, and an even larger Approach Angle increase, going from 21.6 to 30.7 degrees for AWD models. The FX4 off-road package is a bit different but invaluable with features like Hill Descent Control, so it'll dynamically adjust the brakes and regulate your speed when going down steep slopes. Combined with five usable drive modes, you may select Normal, Slippery, Eco, Sport, and Tow/Haul, while two additional drive modes can be added for sand and mud traversal.
A feature that's not included as part of any separate package but rather coming standard with every Maverick model is a Multi-Position Tailgate that can become a load stop whenever you need it. This cargo bed is also equipped to power your tools with a couple of 12V Electrical Leads that come standard, and you can opt to include a couple of 110V outlets, too. Another strong highlight of this cargo bed is ten tie downs, which is great because the truck holds large cargo thanks to its 33.3 cu.ft. of cargo volume. The payload capacity of 1,500 lbs is worth keeping in mind, but if you need a reliable way of hauling your cargo and have some extra towing power, too, the bed is easily one of the more notable means of versatility for the 2024 Maverick.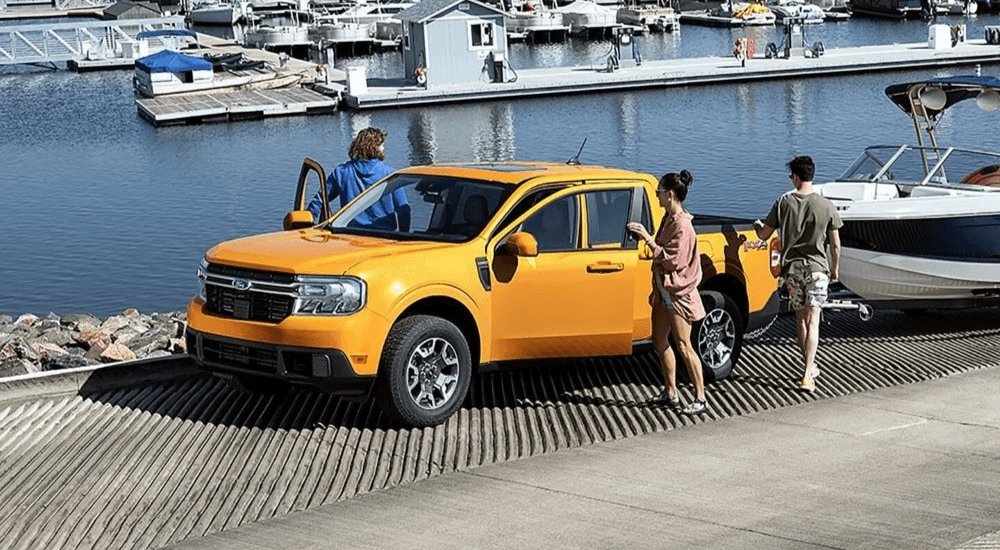 The Best Maverick to Date
Swapping the hybrid engine with the turbocharged one for the standard Maverick powertrain has profoundly impacted the Maverick regarding value and public appeal. The Maverick has always been a competent pickup truck, but the 2024 model is the best one Ford has come out with to date. A pickup truck that starts well under $25,000, produces 250 hp, tows 4,000 lbs, and comes with a Multi-Position tailgate, is hard to beat.
The Maverick is even more technologically equipped than everything we've spoken about, including a standard 8-inch infotainment center, Apple CarPlay, Android Auto, a myriad of other multimedia amenities, and a host of more features. Optional features make the music you listen to in your vehicle sound greater, including an available eight-speaker audio setup from Bang & Olufsen. And every Maverick comes with Ford Co-Pilot 360, which gives this budget-friendly pickup truck advanced safety features like Pre-Collision Assist with Automatic Emergency Braking, Auto High Beam Headlamps, and much more. With the 2024 model bringing welcome changes to the Maverick, there's no better time to buy one for yourself because there's plenty to enjoy and experience about this Ford favorite, and we're here to help you get started.