Exploring the 2023 Ford F-150: Can a Work Truck Be an Everyday Truck?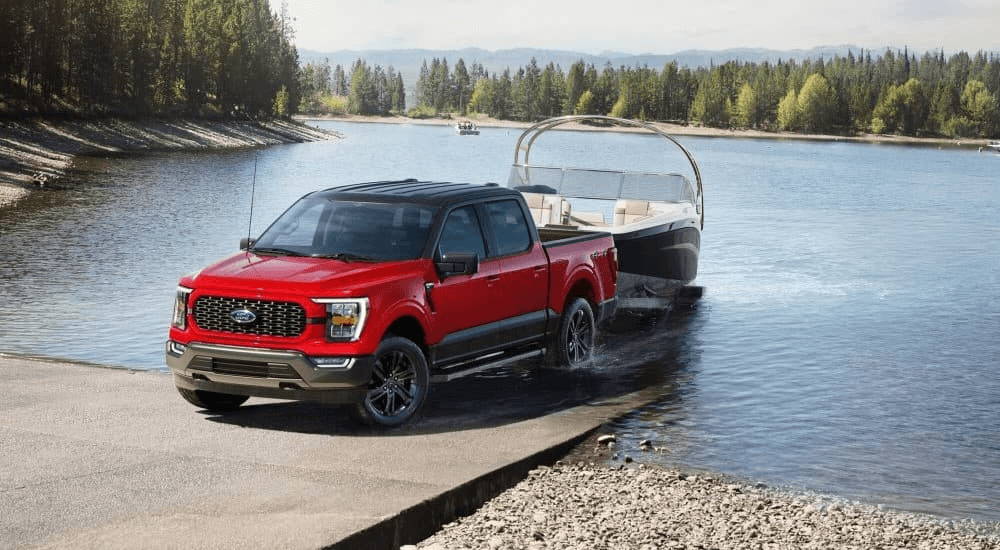 Most people agree that the 2023 Ford F-150 is an excellent work truck, known for its toughness, longevity, and ability to pull heavy loads. But it wouldn't do the F-150 any good if its design was only for tackling the challenges of the job site. In fact, the F-150 has evolved over the years to become much more. It is a versatile, well-rounded vehicle that is great for everyday use. That's good to know, especially if your family needs a vehicle to drop the kids off at school, run errands, and get you to and from the job site. Thanks to Ford's innovative designs and state-of-the-art technology, you get a comfortable, safe F-150 with responsive handling and flexible cargo space. Essentially, it multitasks just like you.
Ford understands that you are busier than ever. You need a vehicle that goes with the flow so you don't end up out of balance. Continue reading to learn more about what the Ford F-150 can do for you. If you're a San Leandro driver and this exceptional truck has you wondering, "Is there a Ford dealer near me?" you'll be happy to know that this exciting vehicle can be experienced here at The Ford Store San Leandro. We offer an extensive selection of Ford vehicles that include the aforementioned F-150 and a team that's here to help you through every step of the vehicle buying process. Before you come in and check out this model up close and personal, let's take a closer look at what makes it such an iconic truck.
Why the F-150 Is a Perfect Everyday Truck
The 2023 Ford F-150 is a great everyday truck. From its roomy cabin to innovative tech, the engineers at Ford have thought of everything. The seats are comfortable, making the ride smooth and enjoyable, whether you're headed to the store or going on a long trip. The interior is made of high-quality materials with modern infotainment systems and thoughtful details for you and your passengers.
Regarding performance, the F-150 gives you choices, so you can pick the one that works for you. And the good news is that whatever performance option you pick gives you a durable and responsive drive. The F-150 also gives you a good mix of power and fuel economy, with fuel-efficient V6 engines and a commanding V8 option. This means that the F-150 can be used for everything from daily commutes to weekend trips. Whether driving through the San Franciso city streets or hauling the camper to Lake Chabot, the F-150's performance ensures everything will go smoothly no matter where your travels take you.
Ford F-150 Safety Features
If you and your family plan to use the Ford F-150 as an everyday truck, you need to know it has the protection you want in an everyday traveler. You'll be happy to know that Ford takes that just as seriously as you and has crafted a powerful lineup of safety features called Ford Co-Pilot360, all standard on each vehicle. These include BlueCruise, a Lane-Keeping System, the Blind Spot Information System (BLIS), Pre-Collision Assist with Automatic Emergency Braking, and more. With these technologies, you can feel confident and safe driving the F-150 in various situations, making it a great choice for daily transportation.
Pre-Collision Assist With Automatic Emergency Braking
You can keep your eyes on the road at all times and still encounter objects in your path. With this system, you get a second set of eyes that helps you see obstructions you might miss. The system scans the road in front of you for potential risks, prompting visual and audible alerts when an object is detected, giving you time to respond. If you don't react quickly enough, the system can even apply the brakes to help you avoid the object.
Lane-Keeping System
Losing focus happens to the best of us. Whether you have 100 things on your mind or you're exhausted from a long day working in the sun, this system helps keep you in the center of your lane by gently nudging the steering wheel and flashing visual aids on your dash. It will even prompt you to take a break if you seem more unfocused than normal.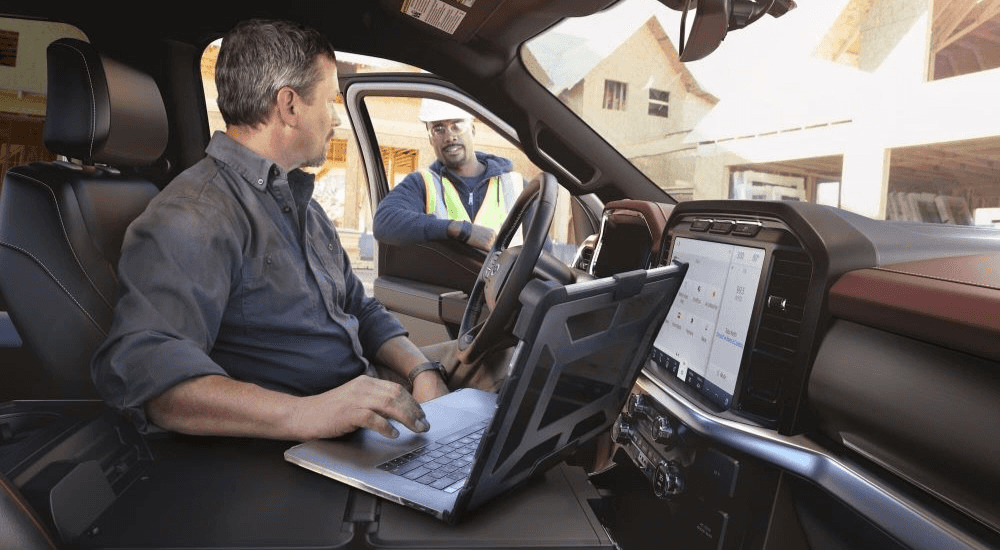 BLIS With Trailer Coverage
BLIS stands for Blind Spot Information System. In the Ford F-150, this system expands coverage to include assistance when hauling a trailer. It lets you know when a vehicle is in your blind spot, plus it gives you added assurance when changing lanes or making wide turns when the trailer is attached. You can also increase your safety by opting for telescoping trailer tow mirrors for further visibility.
Rear View Camera With Dynamic Hitch Assist
Let's be honest. Backing up isn't always the easiest thing to do, especially on busy city streets and crowded parking lots. This standard system gives you the help you need no matter what Ford F-150 model you choose.
Intelligent Adaptive Cruise Control
It's hard to believe that not long ago, cruise control was the wave of the future. Now, you can find Adaptive Cruise Control that helps you stay with the traffic flow and makes necessary changes if you get too close to the vehicles ahead of you. In addition, select Ford F-150 trucks offer the first truly hands-free driving experience with BlueCruise. This system easily navigates over 130,000 compatible roads across the United States and Canada. These are just some safety features you'll enjoy in the F-150 that keep you and your passengers safe no matter how long the drive is.
Comfort and Convenience
For the longest time, the sole focus for trucks was on power and towing capability. Now, as more and more drivers are using their trucks beyond the workday, a shift toward comfort has created a durable truck that rides smoothly and feels good. Starting with the base XL trim, you get cushioned seating and an optional 8-way Power Driver's Seat. You can also choose to include an Interior Work Surface that conveniently adds a flat area so you can get some work done while waiting in the carpool lane at school.
If you bump up to the F-150 Lariat, you get an increased 12-inch Productivity Screen to keep you informed. This screen also displays the terrain mode controls, including options like Tow/Haul, Slippery, and Mud/Ruts. The Lariat also provides standard ambient lighting for better visibility in front and rear footwells, consoles, and cup holders. Your driving comfort is taken to the next level with a 10-way Power Driver's Seat and Multi-Adjustable Power Front Passenger. Plus, your seat has Driver's Memory and Lumbar Support.
All F-150 trucks are equipped with Ford SYNC 4, the manufacturer's latest infotainment software. SYNC 4 helps keep you connected while on the road with voice recognition commands, available navigation assistance, a seamless connection to Apple CarPlay and Android Auto, and more. You also have options for SiriusXM radio with 360L, giving you the latest in the entertainment industry with 200+ channels at your disposal.
Beyond Safety and Comfort
Consider this if you need more than the benefits above to convince you that the Ford F-150 is a great everyday vehicle. The F-150 is flexible in ways other than its comfortable cabin and safety features. It has multiple bed combinations, so you can change the truck to fit your needs and way of life. In addition, there is plenty of cargo space for groceries, sports equipment, or camping gear, offering up to 77.4 cu.ft. in its largest bed. If you and your family love kayaking in the San Leandro area, you can even carry up to two Kayak Racks with a truck-mounted carrier. And with the Tailgate Step, it's easy to load and unload. Lastly, if you're worried about keeping your cargo safe, ask our team about Tonneau bed covers.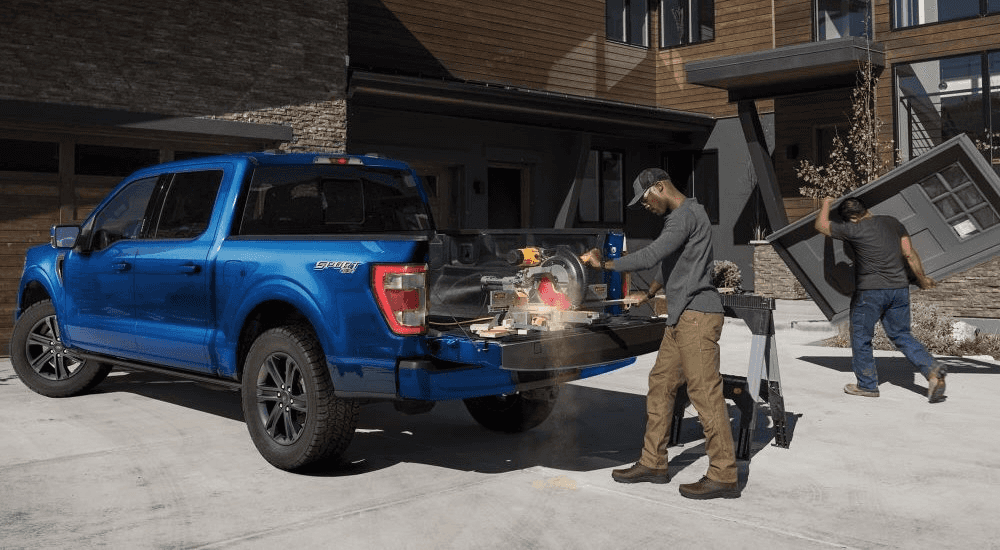 Test Drive a 2023 Ford F-150 Today
In short, the Ford F-150 has gone from simply a work truck to a well-rounded everyday truck. Its focus on comfort, performance, safety, and versatility makes it a great vehicle for a wide range of chores and activities that you do every day. The F-150 balances functionality and refinement, making it a reliable companion for daily life. If you're interested in the Ford F-150, stop by our lot today.
Our friendly and knowledgeable team can answer your questions, discuss finance options, and assess your trade. We want to help you get the vehicle you deserve. We're family-owned with more than 30 years of experience providing families like yours a better way to navigate the East Bay. Whether you need a second truck to accommodate your busy family or a vehicle that can do it all, check out the Ford F-150 today.