Tailored to Perfection: Custom Ordering Your Ford Maverick, Bronco, or Super Duty for a Drive That's Uniquely Yours
If you want a vehicle that is built to your exact tastes, you can custom order a vehicle through a Ford dealer. As your go-to dealership, we want to help you work through this process to get features that fit your style and needs. This buying process has become increasingly popular over the last few years as the auto industry has dealt with parts shortages that have limited inventories across the globe. There are a few ways to get a custom-ordered Ford vehicle. Some go through the Ford website to tailor their new car or truck to fit their needs, while picking the dealership you want to organize your order. You can also come to us in person to start up this process, and we'll walk you through all of your available options.
Today, we are going to take a look at custom ordering the Ford Maverick, Bronco, or a Super Duty truck. These are great options we think many drivers around us will love. Spoiler alert: this process is simple and designed to more fit your needs than simply buying what's available.
Advantages to Custom Ordering a New Ford
There's only one advantage to custom ordering a Ford or any other vehicle. However, it's a pretty big advantage that many buyers have grown to appreciate. Custom ordering your next vehicle allows you to completely tailor it to what you want from it. This means it's uniquely yours from the top down. Everything from the vehicle's roof to the wheels will come just the way you want them.
Of course, even buying vehicles the traditional way allows buyers to select certain features and aspects. However, custom ordering takes things up a few notches. From packages and whats under the hood to paint choices, the vehicle's style is in your hands. Luckily, we can also walk you through the process and help you make informed decisions.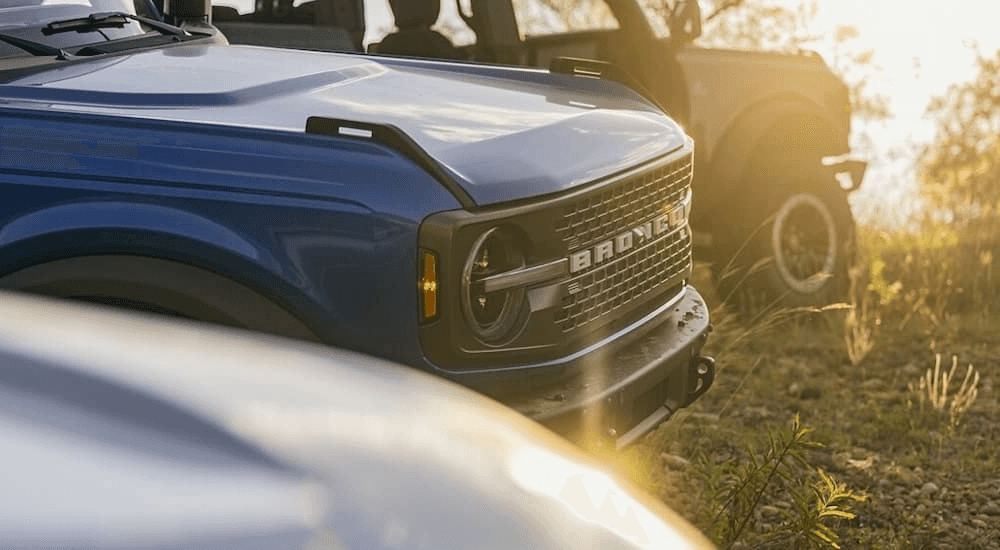 The 2024 Ford Bronco Is an Off-Roaders Dream SUV
The 2024 Ford Bronco comes in nine different trims, with each created for a different purpose. This is one of the major reasons people call the Bronco the best off-roading midsize SUV. The first trim available is the Big Bend, which is mostly for mainstream off-roading. All trims of the Bronco have a standard Terrain Management System with six G.O.A.T. modes, which stands for "Goes Over Any Type of Terrain." You can find the Bronco with either two- or four-doors.
The highest trim of the SUV is the Raptor, which the automaker calls the most capable of the lineup. The trims in between the Big Bend and the Raptor are as follows:
Black Diamond- Adventure off-roading
Heritage Edition- Retro styling
Outer Banks- A combination of off-roading capability and style
BadLands- Intended for extreme off-roading
Everglades- Best for off-roading and water fording
Wildtrak- High-speed off-roading
Heritage Limited Edition- Retro Styling with off-road capabilities
The first thing you'll choose when you start the custom order process is two- or four-doors. Next, you can choose your trim. Now, you will pick the color. The color choices will depend on the trim chosen, but here are some of your available options:
Carbonized Gray Metallic
Oxford White
Shadow Black
Cactus Gray
Iconic Silver Metallic
Race Red
Eruption Green Metallic
Hot Pepper Red Metallic Tinted Clearcoat
Velocity Blue Metallic
Azure Gray Metallic Tri-Coat
The engine options will depend on the trim you pick. The Big Bend, Black Diamond, Heritage, Outer Banks, and Everglades have the 2.3-liter turbocharged inline-four engine standard. This engine has a maximum output of 300 horsepower. The Wildtrak and Heritage Limited trims all have a 2.7-liter twin-turbocharged V6 engine available with a maximum output of 330 horsepower. Of course, the top-trim Raptor has the most powerful engine. It has a 418-hp twin-turbocharged 3.0-liter V6.
Regarding transmissions, a seven-speed manual is standard on some trims; however, you can get a 10-speed automatic. Buyers also get to pick between five different axle setups, but it comes standard with a 4.46 axle. Beyond this, there are options for everything else related to your new Bronco––the exterior, the interior, various roof options, and even the bumpers. You can easily make the 2024 Ford Bronco your own.
Customizing a Ford Maverick
As with the Bronco, buyers can fully customize the 2024 Ford Maverick. The truck comes in three trims. The first available trim is the XL, which the automaker calls "anything but basic." Then there's the XLT, which combines comfort and functionality. Lastly, there is the Lariat, which has the latest features and options. Regarding engine options, the first is a 250-horsepower 2.0-liter turbocharged inline-four. There is also a hybrid option with a 2.5-liter inline-four engine that works with an electric motor. The combined maximum output is 191 horsepower. The transmission on the non-hybrid is an eight-speed automatic, while the hybrid uses a CVT.
Regarding color options, the base trim has five. They're all pretty standard exterior shades, but the other two trim options have quite a few more. As with the Bronco, buyers get to customize their new Ford Maverick in every way imaginable. Essentially, they get to do it from the engine to the wheels and from bumper to bumper. While customizing, buyers can also add things such as first aid kits, roadside assistance kits, and different types of floor liners.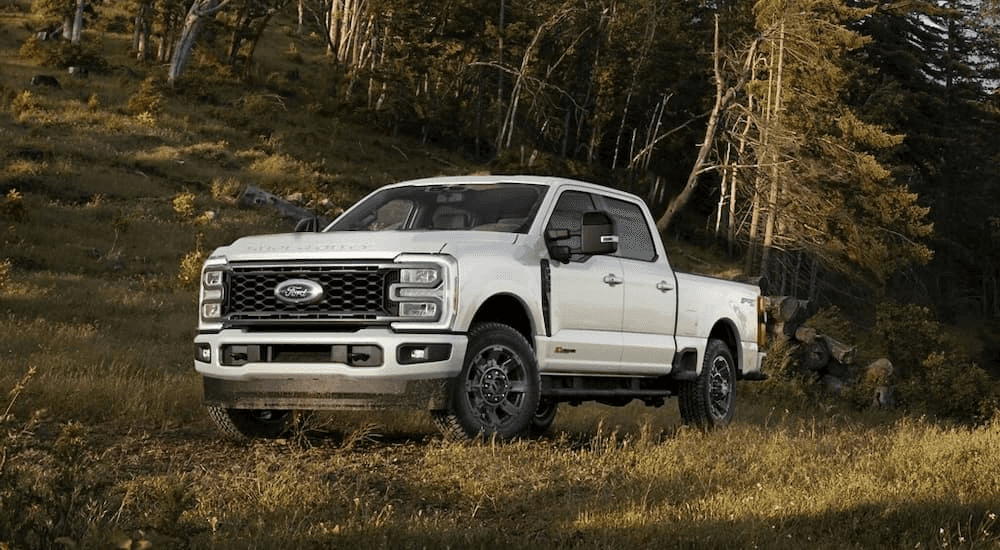 Customizing a Super Duty
The Super Duty models are some of the top trucks on the market for people who need a large truck with lots of capability. This truck series has been around for a long time, and it makes perfect sense that a truck like this would be one people would want to customize. Like with other vehicles, this is important not just for looks, but because people have varying needs for their vehicle. The 2024 Ford Super Duty comes in a few different models and trims. The Super Duty models are the F-250, F-350, and the F-450. The trims are the XL, XLT, Lariat, King Ranch, Platinum, and Limited.
Regarding engine options, the 2024 Ford Super Duty has some massive options. The first is a 6.7-liter High Output Power Stroke V8 Turbo Diesel. There is also a 6.7-liter Power Stroke V8 Turbo Diesel for buyers to pick. Additionally, there is both a 6.8-liter and a 7.3-liter gasoline-powered engine. These engines all have high maximum outputs and make for great towing capacities. The 2024 Ford Super Duty uses a 10-speed transmission, which is quickly becoming the norm for larger vehicles.
As with both the Maverick and the Bronco, buyers get to design their Super Duty to fully fit their needs. Everything from the exterior to how the inside of the truck looks will be tailored to perfection. This level of individuality has become increasingly important as trucks, even those as big as the Super Duty, have multiple purposes. The days of trucks only being used for work are far gone.
Custom Ordering Your Ford Is the Way to Go For Tailored Perfection
Nowadays, more and more people elect to custom-build their vehicles. The Ford Bronco, Maverick, and Super Duty are prime vehicles to do it with because they have so many options for you to choose from. Each of these vehicles has many trims, and they each serve different purposes. For example, buyers can make the Ford Bronco as plain or as extravagant as they desire. When you are ready to get started, contact us for more information.