The Versatile 2024 Ford Bronco and Bronco Sport Were Made for Adventure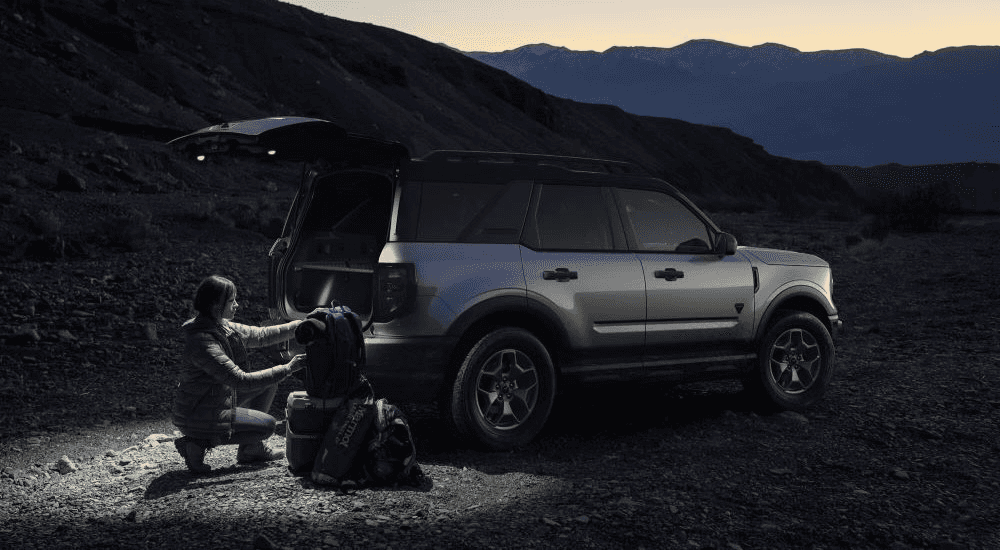 Have you visited a Ford dealer like ours lately? Ford's 2024 lineup is an exciting display of what Ford fans love so much about the brand – their vehicles' durability, versatility, and all-American functionality. Throughout the years, many Ford models have come and gone, but a select few have been so popular that Ford has elected to bring them out of retirement, which has not only pleased nostalgic Ford fans but has also led to the creation of new fans. Ford has an ear to the ground when it comes to what makes their fans happy and strives to deliver newer tech, upgraded designs, and more comfort and convenience features, not to mention powertrain options and available packages.
You can expect to see a wave of fans entering the lot to take a look at the latest models, especially the re-released vehicles. Because of this strong bond between Ford and its customers, a special moment is created when a fan sees a vehicle they never expected to see again – it's a different sort of nostalgia, knowing that you get the chance to re-experience the feelings you had in the past. Not many people get second chances like this, but Ford's commitment to its fanbase has gifted fans with this incredible experience.
The Return of the Bronco
The original Ford Bronco made its debut in 1965 and was a rousing success from the start. People loved its rugged look, roomy interior, and multiple capabilities. They continued to be popular into the 1970s and 1980s, but in the 1990s, SUVs became increasingly popular, and Ford decided to retire the Bronco in favor of models like the Ford Expedition. It was a sad time for Bronco fans – older models were still being driven, but it was a matter of time before the Bronco disappeared from the road for good. Many wondered if there would ever be another vehicle like the Ford Bronco – its classic Americana look and tough build would be difficult for newer models to beat.
From 1997 to 2020, Ford fans mourned the loss of one of America's favorite vehicles. It was a larger, two-door vehicle, while the four-door SUVs had grown in popularity due to ease of use, but this did nothing to deter fans from hoping it would one day make a return. At long last, Ford made the big announcement – the Bronco would return in 2021. As the sixth generation of the Bronco, it had big shoes to fill. Would it still be popular? Would Ford make changes to update the design of machinery to fit in better with the newer SUV models? Only time would tell.
The 2024 Ford Bronco
Ford's 2024 Bronco is a true delight – it resembles its ancestors but brings a modern twist to appeal to younger customers. Some even go so far as to compare it to the Jeep Wrangler, with the Bronco coming out on top. It comes with plenty of impressive standard features, like the 12-inch infotainment screen. There are nine trim levels to choose from, including a Heritage trim, sure to please fans of the classic Bronco. It is also now available as the original two-door, or you can choose the four-door option, so you won't have to worry about folding the front seat forward and squeezing your passengers behind the seat to access seating in the back.
You can choose between a seven-speed manual transmission or a ten-speed automatic transmission, and your engine choices are either the 2.3L four-cylinder or the twin-turbo 2.7L V6, while the off-road-focused Raptor trim offers a 3.0L V6 engine. The Bronco also comes with independent front suspension. You also have the option of a hard or soft top, as well as body panels that can be removed if you feel like having an open-air adventure. Compared favorably to the Wrangler, the 2024 Ford Bronco is jam-packed with features and options so that you can create your ultimate dream Ford Bronco.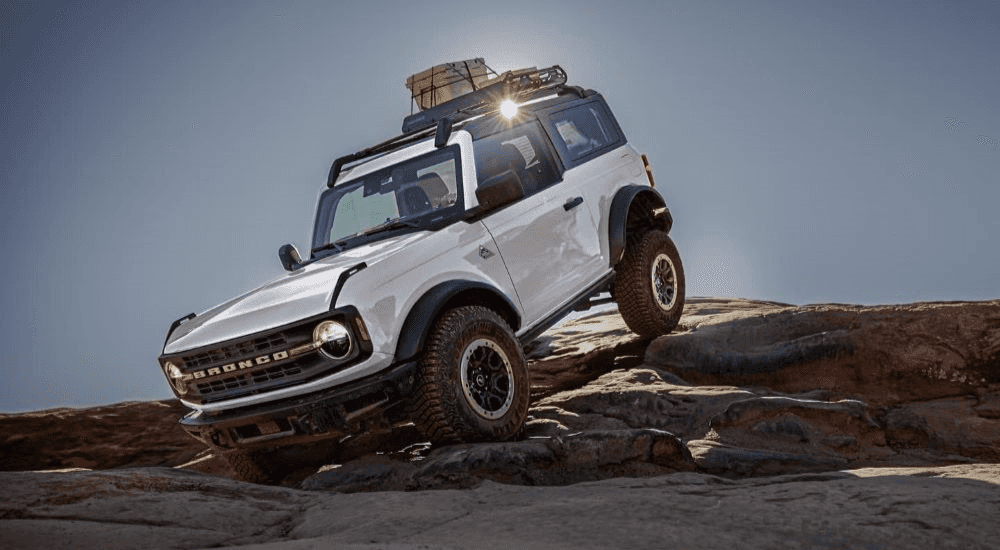 The 2024 Ford Bronco Sport
Curious about the 2024 Bronco Sport? Ford's sporty version of the Bronco is smaller than the previous model, but that doesn't mean it can't play with the big boys. It's a compact SUV capable of driving over gravel, dirt, and other uneven terrain. It also has a leg up on the standard Bronco due to its small size and three-cylinder engine – it gets great fuel economy, which means you can stay out longer and explore nature before you have to find a gas station to refuel. If you've been waxing nostalgic about the Bronco and have thought about looking at a Bronco Sport, Ford also offers the Free Wheeling trim that hearkens back to the original Bronco's 1970s aesthetic.
You can still tow 2,000 to 2,200 lbs, so if you've got a teardrop trailer or other small towing item, you can take it with you on your outdoor trek. If you've got work to do before or after your outdoor activities, you can add a slide-out table installation to your Bronco so that you always have a clean work surface. Looking to tailgate with friends over the weekend? The Bronco Sport has you covered with a bottle opener built into the rear gate. Whatever you need to do, however you want to do it, the 2024 Bronco Sport is ready to join you.
Broncos in Film
With the resurgence in popularity, the Bronco has made its way to the big screen in films such as "Rampage" starring Dwayne Johnson. You can also see its predecessors in films like "Speed," "No Country for Old Men," and "Terminator 2". There's a reason the Bronco has remained so popular throughout the years – it has become embedded in our collective unconscious as the ultimate nostalgic American classic. People still talk about their old Broncos, sharing memories with younger generations who are now ready to drive Broncos of their own.
If you get a chance to see "Rampage," you'll see Johnson driving a prototype of the Bronco that looks incredibly similar to the 2021 Bronco, though, of course, the movie came out several years prior to the re-introduction of the beloved vehicle. In the other previously mentioned films, 1970s and 1980s Broncos are shown, and with these films so readily available and watched by so many, it's easy to see how the Bronco has stuck around for over sixty years. It's a piece of American history, and as any Ford enthusiast knows, nostalgia is a strong indicator of how folks will shop in the future.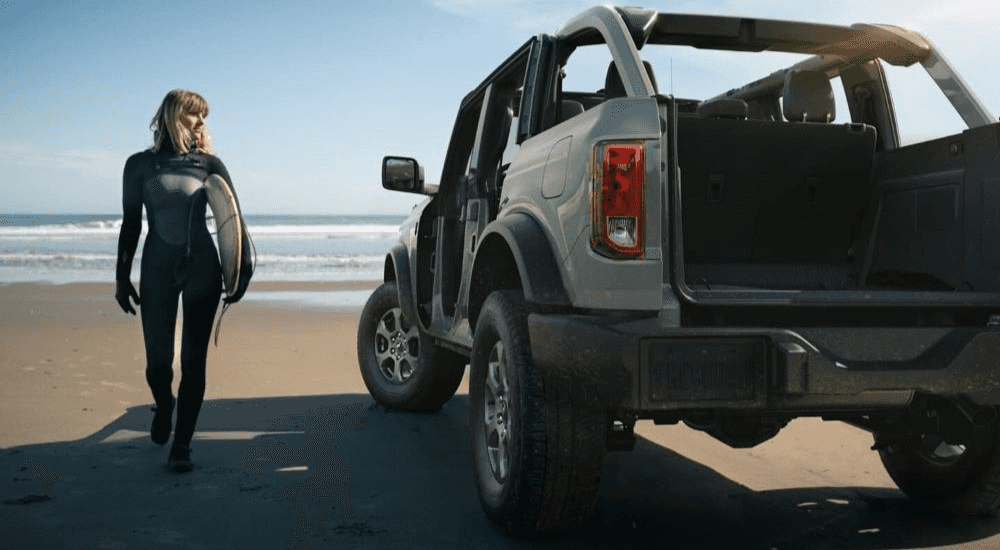 Check Out the Ford Bronco Today
Have films and current automotive news resulted in a curiosity about the 2024 Bronco and 2024 Bronco Sport? We here at The Ford Store San Leandro, welcome you to come in and experience the Bronco for yourself. You'll love how spacious they are, how well they perform, and how many features are packed in, even inside the Bronco Sport. While no vehicle is built for everyone, the Bronco comes pretty close to achieving it. Whether you're looking for an SUV that doesn't look so much like an SUV, or you've been nostalgically ruminating on an older vehicle, you will love the 2024 Bronco and Bronco Sport.
If you're interested in talking to someone about the latest changes and upgrades to the 2024 Bronco and Bronco Sport, or you want to see how well it does in a test drive situation, visit us today and talk with our friendly and knowledgeable team. See the Bronco or Bronco Sport put through its paces, and take the time to appreciate just how far it has come from the 1960s model. If any vehicle deserves a second chance, it is the Ford Bronco, and now's your chance to get behind the wheel of this iconic SUV.